D-STAR(Digital Smart Technologies for Amateur Radio)
New dsgwd is testing now. This version supports the new interface You can easy access / monitor without capture program.(15. Oct. 2018)

ID-RP2C New Firmware 1.6 Released (07 Oct. 2015)
D-PRS (APRS) server avaiable. http://d-prs.d-star.info:14501
New D-STAR specification (Ver 5.0b Japanease version) is available on JARL Web site.



New Firmware of node adapter is available. New Version has new D-STAR specification.

Vista/7/2008/2008R2 64 bit user : Please use lisbusb-win32-1.2.6.0:(see sourceforge.net/projects/libusb-win32/?source=navbar)
Hex file of SAAP (Stand Alone Access Point) is avaiable. (see Stand Alone Access Point)

Caution!
I do not accept your order from Italy now. Because the custom of Italy was hiolding or lossing the parcel post. Already I lost over $1000. So I do not like to loss more money.

V04.48x user and illigal cron board user: V04.48x has many USB timeout problems. So this version is not stable for long running. V06 and V07 are fixed this problems. Also, this circuit dos not support the USB 2.0 and USB 3.0. (Not satify the USB specification.) So, do not use USB 2.0 or USB 3.0 interface board. If you use it, sometime USB interfce of your PC will be broken. Must need to modify the PCB. (I recieved one reprot from user. V04.48x caused some problem on USB 2.0 or USB 3.0 interface.)

V6 & V7 user: Please update your firmware to V06.54 or V07.54. See V6 or V7 page. You can see the detail information.

V6 and V7 (Vxx.50 or later): Node adapter accepts all command through rs232c port insted of USB port.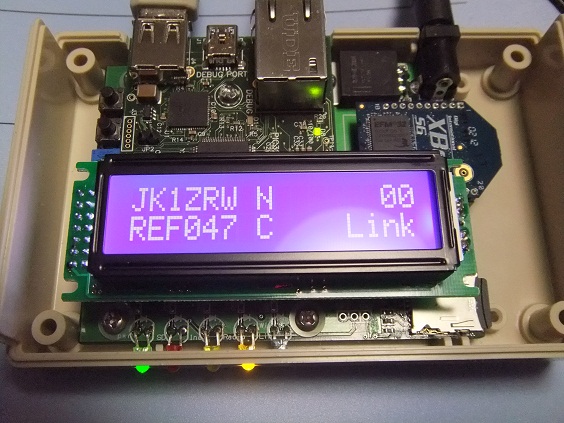 Stand Alone Node Adapter (SAAP) V3 with Ethernet Stater Kit DM320004) and XBee(WiFi)
The SAAP does not need the PC and has the similer feature of the DVAR(HotSpot). You must need the V7 node adapter.

---
I uploaded the circuit diagram of RF display system. (see V7 or V6 page)

Do not ask to me about the decodeing the weak signal. Fred does not understand why JARL added the re-sync signal in slow data fields.
PTT Lock problem was solved..

V07.xx of Node adapter user: Please update your firmware to V07.40 See V7 page.

V06.xx of Node adapter user: Please update your firmware to V06.40 See V6 page.

V06.xx PIC is available for old board user. See the page of Node Adapter Upgrade

I found the bug on Nodeadapter_set.04.00. New version is Nodeadapter_set.04.01. See V06 and V07 page.(06/04/2011)



I uploaded the analog and digital bridge protocol. (This is translateion version.) This specification is defined in the section 4.2.8 of D-STAR specification by JARL.(06/16/2010)

I made the 64 bits device driver. But I did not test it. Please some one try it. (04/29/2010)
See USB Driver page

V01.xx board of Node adapter user: Do not use USB 2.0 firmware. This board does not support USB 2.0. (V01.xx board does not satisfy the USB 2.0 specification. For more details, see Section 7.2.4 of the USB 2.0 specification) Therefore, if you use this type firmware, your PC or other USB device are caused damage.

VISTA 64bits and Windows 7 64bits User: See USB Driver page

Please do not buy any PCB or Kits of the node adapter from PA4BYR and G7LTT. They do not have the permission to produce or re-distribute any PC Boards designed by me. The same holds good for the PIC program and other related materials. These items are copyrighted to me and these 2 have broken the Copyright law. They have stolen our intellectual property. The PCB also has a patented pseudo real time monitor circuit. (Do not use the circuit that is connected between RB2 and RB5 of PIC18F2550.) Therefore any duplication of this circuit without my explicit permission is also a clear violation. My lawyers will be initiating legal action against PA4YBR and G7LTT soon. Any products purchased from them will also be our targets. We will be able to identify your circuits on the D-Star network as I clearly know and can identify the circuits supplied by me. Moreover, I have never sold any PCB to PA4YBR and he is lying to you when he says that he got it from me.


---
Specification
Include the protocol of PC client and the protocol of FM repeater adapter
---
News
I received the report of illigal access of my web site from the forensic analize company. And that compay blocked the illigal access under Japanese anti illigal access law. If you passed your ID and password to another person, they blocked your ID and password. Also, they blocked some IP address which accessed with illigal method. (All illigal access are coming from NL. )


---
last Modified 10/16/2018
CopyRight © 2004-2014 All Rights Reserved. D-STAR™ JARL Satoshi Yasuda 7M3TJZ/AD6GZ
E-mail: 7m3tjz@arrl.net